MINT PARO+ MOUTHWASH & TOOTHPASTE SET
200ml | 85ml
Regular price

Sale price

$62.00
The MINT Paro+ mouthwash and toothpaste set contains :
MINT Paro+ toothpaste
MINT Paro+ mouthwash
MINT Paro+ toothpaste

The fluoride and titanium dioxide-free MINT Paro+ toothpaste combines maximum cleaning performance and gum care.
Thanks to the MPT1 Ultra Polish Technology
©
with perlite as a cleaning agent, it offers high cleaning performance with a low abrasion value - <50 of a possible 250. The Paro+ toothpaste removes
deep-seated
discolouration and ensures a smooth tooth surface and healthy
gums
. The abrasive-free formulation is ideal for patients with pain-sensitive teeth and gums. It ensures a well-groomed and carefree smile.
MPT1 Ultra Polish Technology© with the cleaning agent perlite
Contains allantonin, panthenol, chamomile extract, menthol & eucalyptol
For the needs of sensitive gums
Free from: microplastics, abrasives, PEG's, parabens & titanium dioxide
100% vegan
RDA value: <50
MINT Paro+ mouthwash
The alcohol-free formula offers a gentle cleaning of gums and interdental spaces. It provides valuable protection through the innovative complex of vitamins B, E, K and hyaluronic acid, which moisturizes and gently soothes and regenerates stressed gums. The B vitamins contribute to the maintenance of the mucous membranes. In addition, vitamin K1 + K2 support the maintenance of bones and teeth. Vitamin E, also known as the "skin vitamin", protects against oxidative stress. The recipe is free of irritating ingredients and is particularly suitable for pain-sensitive teeth and gums.
Daily protection & care for stressed gums

With hyaluronic acid and vitamins B, E & K

With antioxidant properties

Free from: microplastics, abrasives, alcohol, PEG's, parabens, titanium dioxide

100% vegan
Good to Know: What is periodontal disease ?

Every second German suffers from periodontal disease. That means it is a widespread disease, but there are no drugs against it. Patients often only come to the dentist when it is already too late and their teeth are already wobbly or infected. Periodontosis is an insidious disease that is chronic and asymptomatic.
APPLICATION NOTICE

Clean your teeth two to three times a day for about 2-3 minutes. For optimal cleaning, place the toothbrush at a 45 degree angle to the gums. Then move the bristles in a circular motion over the outer and inner surfaces of your teeth. Brush the released coating with gentle wiping movements in the direction of the chewing surface and then rinse your mouth thoroughly. Important note: Please note that the toothpaste should not be swallowed!

Simply rinse your teeth with our MINT mouthwash after brushing your teeth or eating. Fill the inner cap of the MINT mouthwash and invert into the large cap. So there is no contamination of the content. Then rinse vigorously for 2 minutes.
INGREDIENTS

MINT Paro+ toothpaste

Sorbitol, Aqua, Propylene Glycol, Cellulose, Hydroxyapatite, Hydrated Silica, Tetrapotassium Pyrophosphate, Sodium C14-16 Olefin Sulfonate, Disodium Pyrophosphate, Perlite, Aroma, Cellulose Gum, Panthenol, Menthol, Mentha Piperita Oil, Mentha Viridis Leaf Oil, Allantoin, Sodium Saccharin, Zinc Chloride, Ubiquinone, Eucalyptol, Limonene, Chamomilla Recutita Flower Extract, Cyanocobalamin, Citric Acid

MINT Paro+ mouthwash

Aqua (Water), Glycerin, Sorbitol, Xylitol, Sodium Benzoate, Polyglyceryl-3 Diisostearate, Aroma, Sodium Hyaluronate, Tocopheryl Acetate, Maltodextrin, Mentha Piperita Oil, Niacinamide, Lactic Acid, Folic Acid, Pyridoxine Hcl, Cucumis Sativus Fruit Extract, Cyanocobalamin , menaquinone-7, limonene
SHIPPING INFO

Standard shipping within Germany is free of charge for orders over €35.

You can find everything else about shipping and returns here .
CONTACT US

To ask? Contact the MINT team 24/7 by email: info@mint-cosmetics.com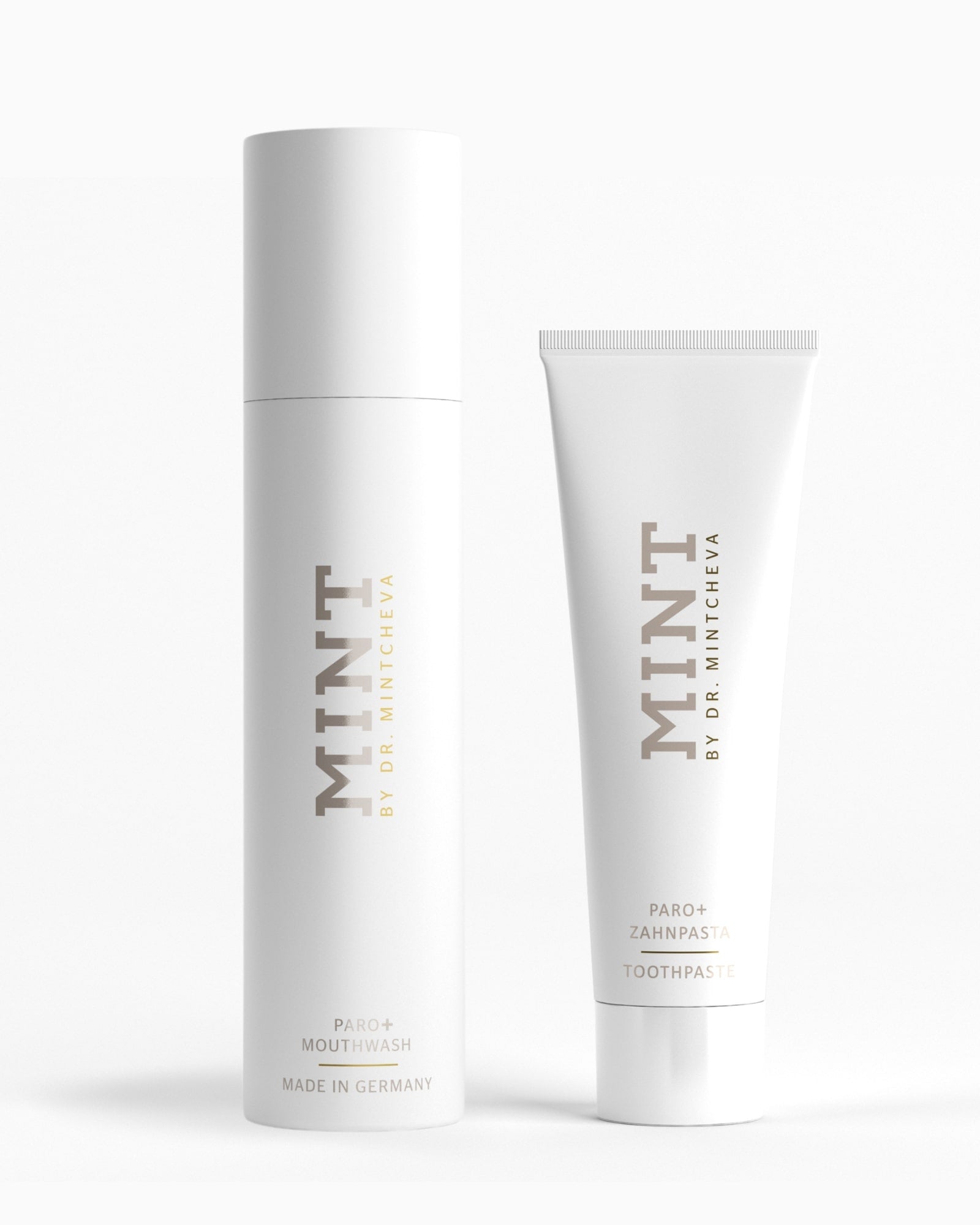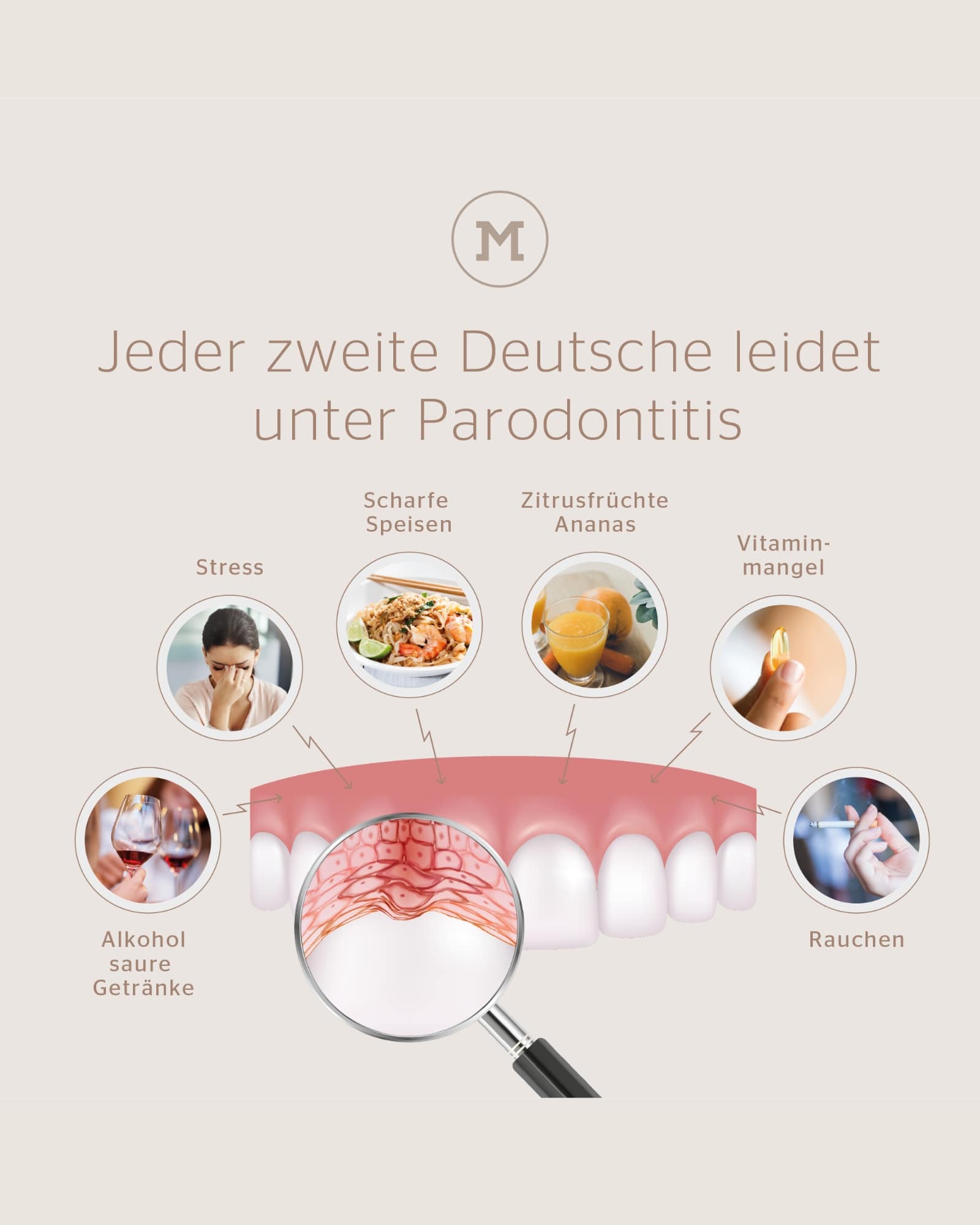 OUR PROMISE
SHIPPING FASTER

Delivery in 1-3 working days

SUSTAINABLY PRODUCED

Co2 neutral cardboard boxes
"I want to give everyone a confident smile!"