PARO+ SET
85ml | 75ml | 200ml
Regular price

Sale price

$105.00
Das Set enthält:
MINT Paro+ Zahnpasta
MINT Paro+ Mundwasser
MINT Hyaluron Zahnfleischserum
Das Set speziell für die Bedürfnisse des Zahnfleisches
Die fluorid- und titandioxidfreie MINT Paro+ Zahnpasta vereint höchste Reinigungsleistung und Zahnfleischpflege.

Durch die MPT1 Ultra Polish Technologie
© 
mit Perlit als Putzkörper bietet sie eine hohe Reinigungsleistung bei geringem Abriebwert - <50 von möglichen 250. Die Paro+ Zahnpasta entfernt 
tiefsitzende
 Verfärbungen nachhaltig und sorgt für eine geglättete Zahnoberfläche sowie gesundes 
Zahnfleisch
. Die abrasiva-freie Rezeptur ist ideal für Patienten mit schmerzempfindlichen Zähnen und Zahnfleisch. So sorgt sie für ein gepflegtes und unbeschwertes Lächeln.
MPT1 Ultra Polish Technologie© mit dem Putzkörper Perlit
Enthält Allantonin, Panthenol, Kamillenextrakt, Menthol & Eucalyptol
Für die Bedürfnisse von empfindlichen Zahnfleisch
Frei von: Mikroplastik, PEG's, Parabenen & Titandioxid
100% vegan
RDA-Wert: <50
MINT Hyaluron Zahnfleischserum
Das MINT Hyaluron Zahnfleischserum ist eine aufbauende Pflege zur partiellen oder vollflächigen Anwendung. Es hilft stark beanspruchtem Zahnfleisch, welches unter Reizungen, Zahnfleischbluten, Zahnfleischrückgang, Zahnfleischtaschen leidet.  Das feine Serum haftet optimal an der Mundschleimhaut und spendet dank Hyaluronsäure intensive Feuchtigkeit zur Regeneration.  
Aufbauende Pflege 
Spendet dank Hyaluronsäure intensive Feuchtigkeit zur Unterstützung der Regeneration
Frei von: Mikroplastik, Abrasiva, Alkohol, PEG's, Parabenen
100% vegan
Paro+ Mundwasser

Die alkoholfreie Formel bietet eine schonende Reinigung von Zahnfleisch und Zahnzwischenräumen. Es liefert wertvollen Schutz durch den innovativen Komplex aus den Vitaminen B, E, K sowie Hyaluronsäure, welche Feuchtigkeit spendet und das beanspruchte Zahnfleisch sanft beruhigt sowie regeneriert.
Die B-Vitamine tragen zum Erhalt der Schleimhäute bei. Zusätzlich unterstützen Vitamin K1+ K2 beim Erhalt der Knochen und Zähne. Vitamin E, auch als "Hautvitamin" bekannt, schützt vor oxidativem Stress.
Die Rezeptur ist frei von reizenden Inhaltsstoffen und besonders für schmerzempfindliche Zähne und Zahnfleisch bestens geeignet.
APPLICATION NOTICE

Reinige Deine Zähne zwei- bis dreimal täglich für etwa 2-3 Minuten. Für eine optimale Reinigung setze die Zahnbürste im 45 Grad Winkel zum Zahnfleisch an. Bewege dann die Borsten mit kreisenden Bewegungen über die Außen -und Innenflächen Deiner Zähne. Bürste den freigesetzten Belag dabei mit sanften Auswischbewegungen in Richtung der Kaufläche und spüle Deinen Mund anschließend gründlich aus. Wichtiger Hinweis: Bitte beachte, dass die Zahnpasta nicht verschluckt werden sollte!

Zahnfleischserum täglich nach dem Zähneputzen oder bei Bedarf mit dem Finger auf das beanspruchte Zahnfleisch auftragen und für mindestens 30 Minuten einwirken lassen. Tipp: Über Nacht einwirken lassen.
INGREDIENTS

MINT Paro+ Zahnpasta

Sorbitol, Aqua, Propylene Glycol, Cellulose, Hydroxylapatite, Hydrated Silica, Tetrapotassium Pyrophosphate, Sodium C14-16 Olefin Sulfonate, Disodium Pyrophosphate, Perlite, Aroma, Cellulose Gum, Panthenol, Menthol, Mentha Piperita Oil, Mentha Viridis Leaf Oil, Allantoin, Sodium Saccharin, Zinc Chloride, Ubiquinone, Eucalyptol, Limonene, Chamomilla Recutita Flower Extract, Cyanocobalamin, Citric AcidH

MINT Hyaluron Zahnfleischserum

Aqua, Xylitol, Glycerin, Propylene Glycol, Sodium Hyaluronate, Aroma, Sodium Benzoate, Potassium Sorbate, Citric Acid, Limonene

MINT Paro+ Mundwasser
Aqua (Water), Glycerin, Sorbitol, Xylitol, Sodium Benzoate, Polyglyceryl-3 Diisostearate, Aroma, Sodium Hyaluronate, Tocopheryl Acetate, Maltodextrin, Mentha Piperita Oil, Niacinamide, Lactic Acid, Folic Acid, Pyridoxine Hcl, Cucumis Sativus Fruit Extract, Cyanocobalamin, Menaquinone-7, Limonene
SHIPPING INFO

Standard shipping within Germany is free of charge for orders over €35.

You can find everything else about shipping and returns here .
CONTACT US

To ask? Contact the MINT team 24/7 by email: info@mint-cosmetics.com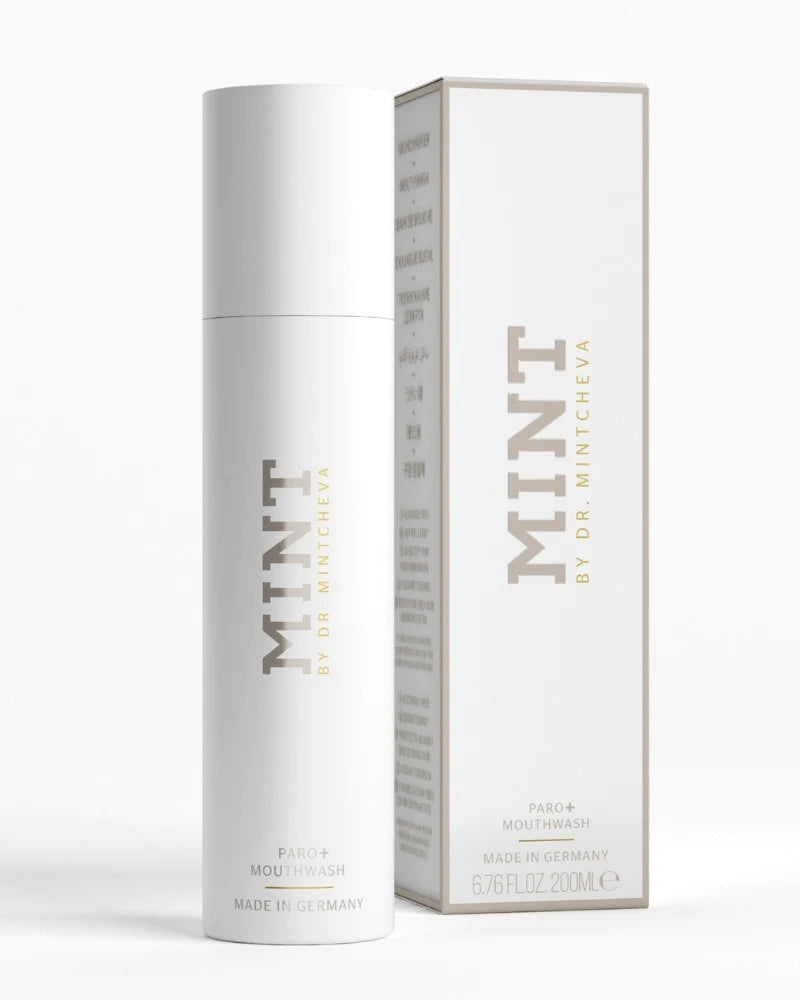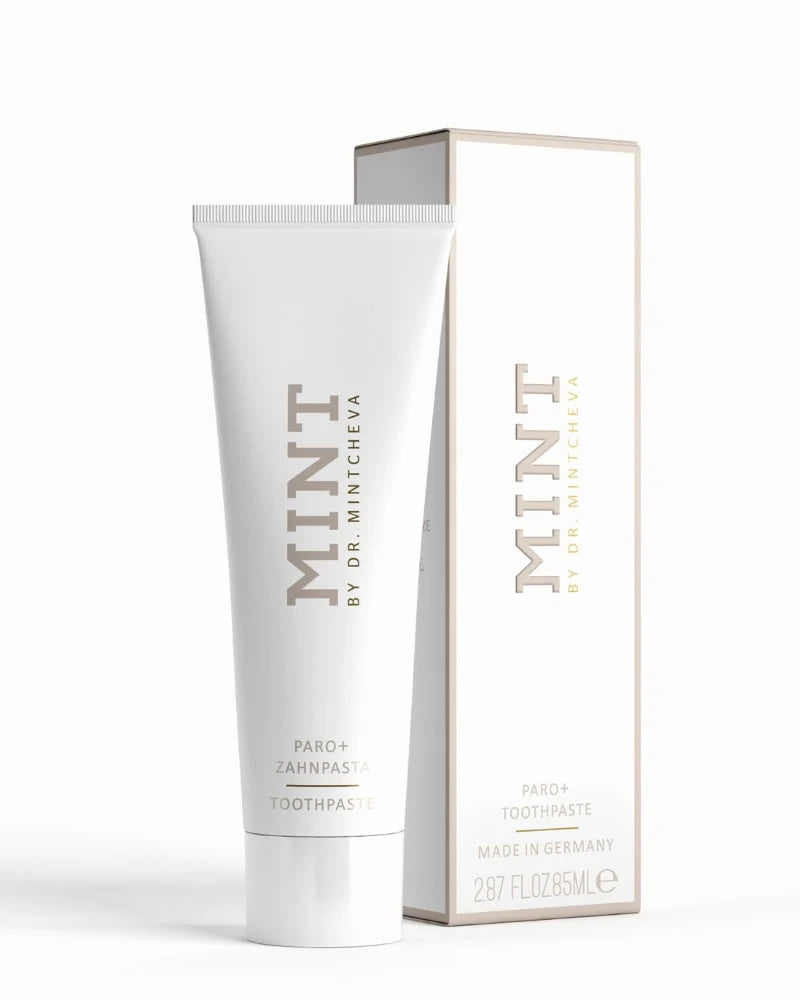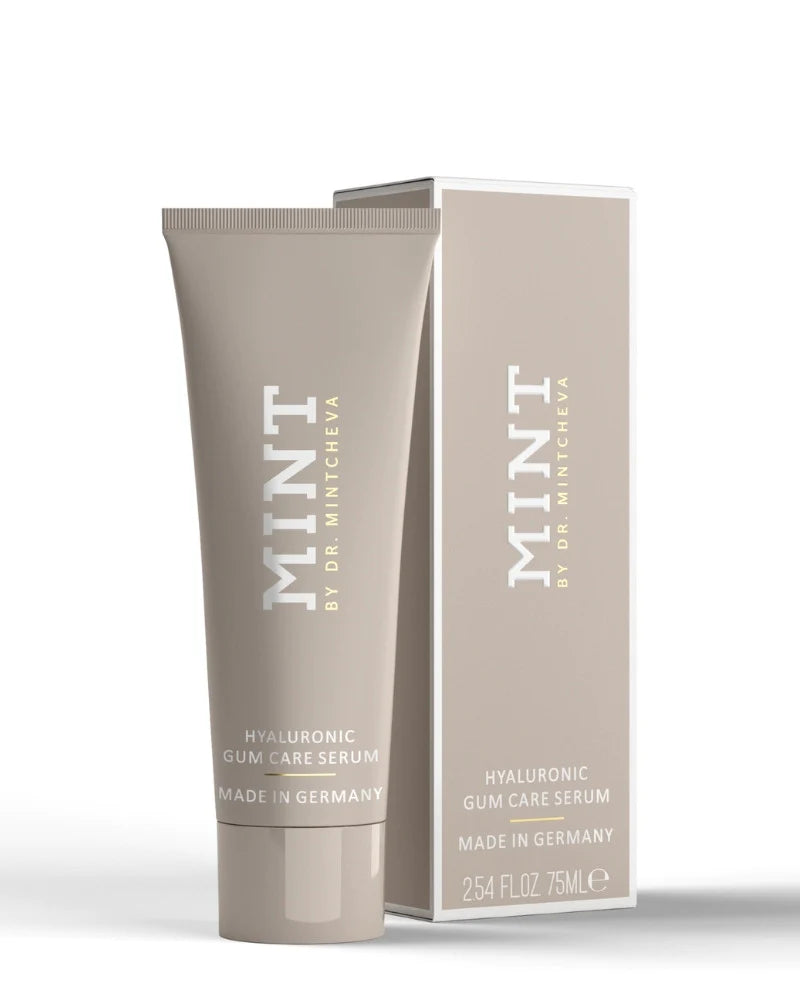 OUR PROMISE
SHIPPING FASTER

Delivery in 1-3 working days

SUSTAINABLY PRODUCED

Co2 neutral cardboard boxes
"I want to give everyone a confident smile!"